Task
As an iconic American brand, Harley-Davidson needs no introduction, but the need was to tell many people that the brand was now present and growing fast in India.
We also wanted to make the brand younger and accessible, given the increased focussed and products in that category.
Enable authentic engagement with and between customers and prospects.
And, drive width and depth on digital, creating an impact on sales and leads.
Programme Strategy
Be where the people are online
Amplify on-ground initiatives to create a reach multiplier
Bring people to our channels to drive leads
Showcase our diverse riders to drive the personal freedom, brotherhood (HOG) and community message authentically
Showcase the Harley values
Put people in the centre: leverage Harley Owners Group
'On the Road with Harley-Davidson' is one of the highest organically engaged properties on Harley-Davidson till date as it showcases photographs submitted by Harley owners during their rides, of their motorcycle.
Put people in the centre: people connect with likeminded people
Undertaken video series – The Freedom Stories: A series created to showcase the passionate relationship between a Harley Davidson owner and his motorcycle.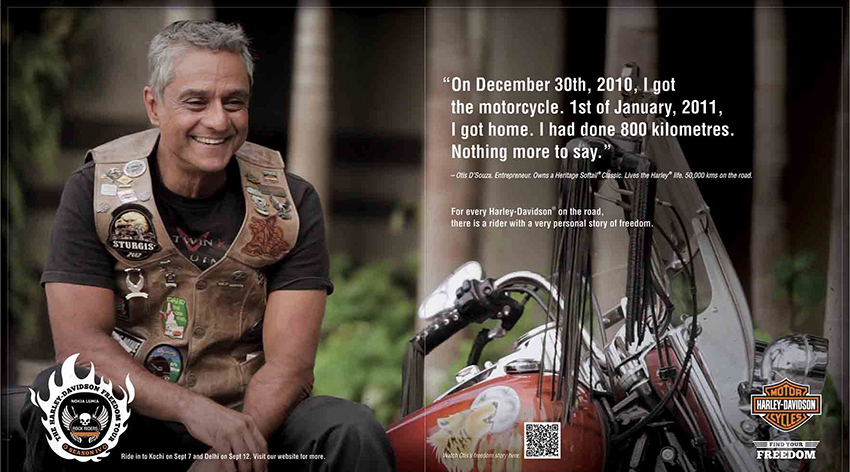 Put people in the centre: series of profiles of Harley owners
A series created to showcase the Harley owner, his ride & motorcycling experiences, the key message of H.O.G. Leverage their networks for the message to reach to larger set of people.
Understanding not all consumers and users are the same
Content strategy takes into account the different stages at which a user might be in the life cycle for purchase
Thus, a variety of content caters to:
– Dreamer
– Enthusiast
– Prospect
– Owner
– Media
– Ambassadors
Amplify on-ground initiatives & product launches on social
Drive sales & create leads via social
Advertising driven campaign focused on leads
CRM mapping at dealerships to track conversions