Being in the social media marketing space, we follow with great interest the various campaigns that brands launch. We eagerly wait to see the innovative ideas that are put into action, and follow the execution of these ideas.
We put an effort into creating and maintaining personalities for our brands, but while engaging with people on Facebook or Twitter, it is difficult to bring out different aspects of these personalities.
I recently read an article in Social Media Today by Christianna Giordano which followed the recent interaction between the brands Oreo and AMC Theatres on Twitter. The Oreo Twitter handle posted a question asking "Ever bring your own Oreo cookies to the movie theater?", which the AMC Theatres Twitter handle responded to with "NOT COOL, COOKIE." This was re-tweeted over 1,800 times.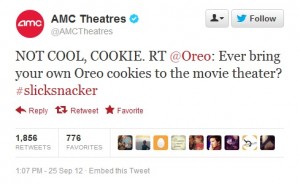 The Oreo handle further responded with "Fair enough, @AMCTheatres, but don't hate the player, hate the game." I thought the interaction was delightful, and most fans did too, judging by the number of re-tweets and favourites. I think it is a wonderful idea for brands to interact with each other on social media channels – these are opportunities for some firmly tongue-in-cheek humour, and makes the brands more relatable.
Another example of this brand-to-brand interaction was the Old Spice and Taco Bell flame war – light-hearted, clever, back and forth banter between the two.
Megan Garber talks about their interaction as such.
"On social media, brands don't simply have personalities; they have relational personalities. They interact with customers, sure; they also interact with each other. Or, at least, they have that option."
I think it would be quirky and fun if brands interacted with each other more. Sure, there are pitfalls – what if not everyone is able to do it in good humour? Some brands, or the people behind them, might take offence to an innocuous remark, and a war might actually erupt on social media. And there is also the danger of going so overboard that fans get an overdose of brand interactions, and feel ignored, or bored.
Despite potential crisis opportunities, I think this is an idea that brands should explore – talk to each other and be friends. They'll get to show off their wit, and generate tremendous interest at the same time.
What are your thoughts on this? Are there too many difficulties involved? Have you seen any Indian brands engaging with each other? Do share.