I recently attended a webinar hosted by Wildfire on 'Converged Media: How Brands Should Combine Paid, Owned, and Earned Media'. We never know enough. So while we might understand our domain of operation well, webinars are great facilitators in structuring our thought process. The webinar flowed well by first defining the terms, then putting three pertinent questions and finally providing a possible solution. It was easy to comprehend. Here are my notes.
Owned media includes all of the pages managed by your brand on the internet. Owned social presence is becoming more important than the brand's website. According data recorded in May 2012, visits to websites were 23,000 while visits to Facebook were 320,000.
Question 1:  With so many people moving to social media, how do we make them stick to our brands/spend more time with branded content?
Paid media – social is no longer free. Drive properties to owned properties. Supplementing social with paid is essential. Paid media strategy is evolving from an option to necessity.
Question 2:  We are seeing incredible amounts of social advertising. Also, increase in 'noise'.  How do we stand out as a signal in that noise?
Earned media – World of mouth is still considered the highest form of marketing. It's the most trusted form marketing for consumers. You can't create it, can't buy it, but you can try to influence more of it.
When the brand talks about itself – level of trust is 58%
When a friend is talks about the brand– level of trust is 92%
Source: Nielsen Global Trust in Advertising Survey, 2012
Example, Pepsi's marketing strategy is hugely dependent on spreading the word. They are very engaging in their approach
Question 3:  How do we harness opportunities to extend the effect of earned media?
The solution – Convergence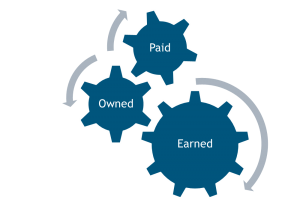 Owned – cross network social programs, media libraries (album, photos, editorial content), promotions and campaigns (apps)
Paid – real time optimised ads, conversion and attribution options (different types of people respond differently. E.g.: For ads to increase fans – target people who are mostly likely to click on like, advanced targeting (e.g. single, urban, female) sponsored stories (endorse what consumers are saying about you and spread to the ears of everyone else), sponsored posts
Earned – You can't buy it, you can only influence and hope for it. Boost by user posts, engagement campaigns (e.g. essay contest, photo contests), user generated content and incentivised sharing (e.g. giving rewards)
Extend the impact of your owned engagement activities (e.g. Benefit cosmetics). Amplify voices of your most loyal fans – sponsor reach, quantify your media impact. Influence and celebrate earned media creation (e.g. Timberland – showcases photos submitted by users, reward users)
Here are examples of brands which are performing ahead of the curve
Actionable Insights
Create an engagement campaign centred around user-generated content and run ads to extend its reach and awareness
Create ad creatives and copy that speaks to the purpose of the campaign, not with generic branding – try a 'call to earned action' like 'watch this 30 sec video'.
Reuse and recycle your earned media for new owned and paid asset, the way Timberland does. Don't just store it in albums.