How many times does it happen that a friend invites you to a group activity and you just involuntarily join the group?
How many times does it happen that when you see a friend 'like' a page, you are tempted to 'like' it too?
Do you think your social and group activities have been heightened because you are part of a social network?
I came across a study conducted by Pew Internet (see the report findings here) over organizational life in America and impact of internet on the group activities. I am sharing with you a few research findings and insights which I found of interest and value.
According to the study, 75% American adults engage in voluntary group activities. Internet users (80%) tend to be more active than the non-users (56%). Internet users who are a part of popular social networks like Twitter and Facebook were found more likely to be active. 82% social network users are group participants.
The graphic below captures the behaviour exhibited by the respondents active on groups –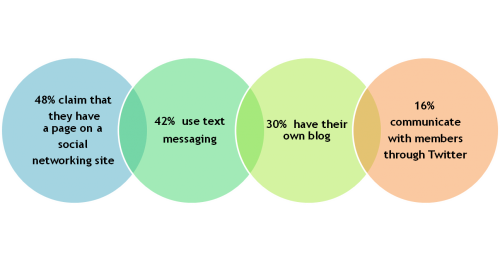 Reasons why people joined groups:
Solidarity – The group bolsters up spirits and enables an individual to accomplish tasks they cannot achieve on a standalone basis.
Ability to make a difference – One of the main drivers of joining groups is the ability to contribute towards a cause and the ability to make a difference, 'aimed at personal fulfillment and civic engagement.' (verbatim from the report)
Updation of news and information – 57% feel that staying updated with news and information about subjects of interest propels them into joining a group.
Group invites – 65% of the respondents active on groups have issued invites to others.  Knowing someone from the group also increases the level of trust and faith in the group. 16% of the respondents joined groups out of courtesy towards a friend or relative who might have sent them an invite.
Discovery becomes easier – Social networking helps make the groups more accessible.
I would like to connect the above insights and findings to engage in a larger debate. I was reading a post by Geoff Livingston where he debates the whole notion that 'media causes revolution.' He very rightly puts that 'social media are but tools' only but this tool does facilitate the group behaviour and helps them become a force by uniting them, irrespective of who they are and where they come from. The viral nature of the medium causes the ripple effect and helps the cause or revolution to catch on. The tendency of discovering a group with like interests, is also very high through social networks and as stated earlier (via the study) the level of trust in group activities is much higher, when mutual friends are involved. It lends courage to people who find it difficult to accomplish the same task alone.
Do social networks facilitate dormant ideas become forces? Share your thoughts.