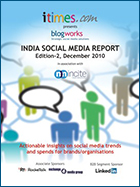 If you are an Agency or an Organisation using or planning to use social media, download your free copy by filling the form below.
About
Jointly prepared by Blogworks and NM Incite (a Nielsen/ McKinsey Company) basis an online survey conducted in November 2010. A total of 236 brands/ organisations and 208 Agencies/ consultants participated.
The report shares the nature, and level, of social media usage by businesses and brands in India; channels and impact; objectives and measurement. Actionable insights on social media trends and spends by brands and organisations in India.
The report features sections on:
Nature of involvement and management
Time spent by brands and agencies
Areas of focus
Top uses – how are b2c and b2b programmes using social media
Departments leading engagement
Key stakeholders engaged using social media
Sourcing
Choice of channels
Favoured channels
Comparison between agencies and brands usage of channels
Mobile SN usage and preferred channels
Social Media Life-cycle
Programme maturity
Departments involved in planning and managing social media
Social media policy need/ preparedness
Budgets
Spends
Outlook
Activities that score high on RoI
Measurement & Analysis
Top metrics as per brands
Comparison between top metrics in 2009 report and the current report
[contact-form-7 404 "Not Found"]