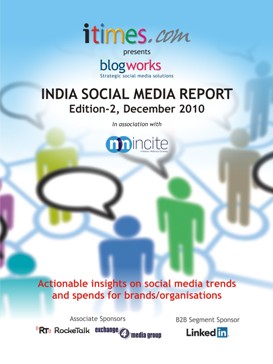 We had been getting many requests for digital copy of the India Social Media Report, Edition 2.  The wait is now over.
So,  if you are an Agency or an Organisation using or planning to use social media, download your free copy .
Jointly prepared by Blogworks and NM Incite (a Nielsen/ McKinsey Company) basis an online survey conducted in November 2010. A total of 236 brands/ organisations and 208 Agencies/ consultants participated.
Full of actionable insights on social media trends and spends by brands and organisations in India, the report shares the nature, and level, of social media usage by businesses and brands in India; channels and impact; objectives and measurement. 
The report features sections on
Nature of involvement and management
Choice of channels
Social Media Lifecycle
Budgets
Measurement & Analysis
You can also order your copy of the printed report at a special price, by writing to report@blogworks.in