Recently I had a conversation with one of my friends about mutually liking each other's Facebook status updates and photo shares, or anything we post on Facebook.
We decided to do this and he posted this agreement of ours as a status update on his timeline. And soon I found that several of our friends also wanted to be a part of this 'mutual' liking and commenting. How silly we are! But these are the small things that give us enjoyment.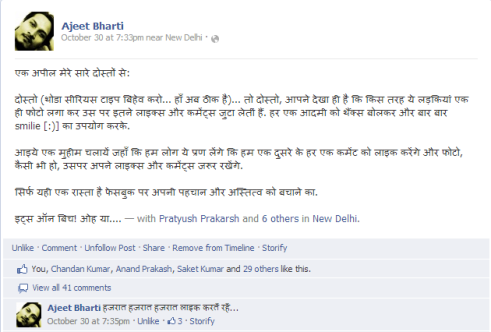 It may be silly but this is how the majority of people want their Facebook experience to be – everyone wants to take centre-stage! And this got me wondering whether it is necessary for brand managers and community managers who handle brands on Facebook to look deeply into Facebook Edge Rank.
Yes, knowing and understanding the Facebook Edge Rank is necessary but it is neither the only important thing nor it should define our existence on Facebook. It is of far more importance that brands speak the language of their communities, but instead we are so focused in figuring out and trying to beat Edge Rank.
But there, actually, is a way we can beat the Edge Rank on its own turf.
For this, brands need to first understand why people exist on Facebook. People are not here to listen to brands, they are here because they want to be the centre of attraction – they want attention and others to be engaged with them.
When we post updates on our brand pages, don't we eagerly keep a count of the number of likes, comments and shares that a post gets? In the same way, when users comment on a status update or a post, they would want, at least, to be acknowledged. However, more often than not, people just keep commenting on brand posts, and the brand doesn't engage with them.
When we post an update, we should keep track of the comments on them. Liking users' comments will make them feel that their opinions are being acknowledged – at the very least we should acknowledge them, and thank them for taking an interest in the brand. It is even more imperative to respond to comments, and engage with the users, and further, encourage them to engage with each other as well. This will weave a stronger community, where each person feels involved with the brand.
Moreover this will prompt the fans to engage with the brand regularly, and we won't need to resort to gimmicks every time we want to generate engagement.
For small and mid-sized brands this becomes more important, as they have smaller communities and smaller budget to invest in ads. A strong smaller and engaged community is better than bigger but less engaged community.
Do you agree with this? Share your thoughts.