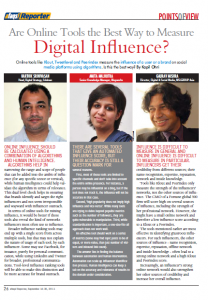 Afaqs recently did a story on – "Are online tools the best way to measure Digital Influence" for their magazine – Afaqs Reporter.
My experience as part of the Insights & Analytics practice at Blogworks has been that technology has not reached the point where 100% automation can be relied upon. Here is my original comment on the story:
Social is a new industry and like any new industry it will go through a churn before best practices and standard metrics are put in place. At this point of time, there are several tools which give an automated influence score but accuracy of these is still a question mark for several reasons. First, most of these tools at this point are limited to specific channels and don't take into account the entire online presence. Therefore their score tends to be limited to say the person's influence on Twitter and not credit for say their blog or participation on LinkedIn. Second, there is research to prove that "high popularity does not imply high influence and vice-versa", while many of these tools are trying to delve beyond populist metrics such as the number of followers, they are quite vulnerable at this point to manipulation. Third, while standardisation is important, a one size fits all approach does not work well. Different businesses may find different metrics of value and an effective tool should work on a series of metrics (some may find Topic Posts or comment count to be of equal or more value than say just number of visitors and inbound link count) which is still to happen.

Therefore, these tools can't be blindly relied on.The answer lies in finding the balance between automation and human intervention. Automation can help scale up influencer identification process, human intelligence on the other hand can keep a tab on the accuracy and relevance of results to the subject/domain under consideration.
You can read the complete story in the recent edition of Afaqs Reporter.
What have your experiences been in influencer measurement? Do share your learnings and experiences.