People remember 2007 for different reasons – Pratibha Patil elected as the first female President of India, the Samjhauta Express bombings, clashes between opposition parties, the governing Communist Party of India (Marxist) and police in Nandigram, West Bengal, Indian spacecraft SRE 1 successfully completes a twelve-day orbital test flight, making India one of the few nations to return a craft from orbit. But what people would not know is a day in the life of a self-proclaimed 'Storytelling Maven'.
I remember, I got my first job in a PR agency in New Delhi and I landed in the city like a fisherman with sea secrets in his eyes. And, there was no looking back. My career as a communications professional kick started. One of the major learning was my super boss telling me that 'always tell a story and you will be heard'.
Going forward, I looked into all the successful brands out there that have made it big. A brand's story puts a character to the brand, adds a personal touch and infuses life into the brand. What makes a brand story stick is its acceptability? Do people buy the brand story? Why is story-telling important? Firstly, a brand story tells the story of the brand, it induces associations. The target consumers need to feel connected to it. If the brand story is unbelievable, there will be more questions than answers. Secondly, an impactful and consistent brand story resonates immediately, is unforgettable, and will push one up into the evoked set. Third, if consumers accept the brand story it means it has a unique quality. It is distinguished from its competitors. It stands out. Last, but not least: credible brand stories create brand activism and advocacy. It is very interesting to see how the balance of power has shifted. It is gone from advertisers with deep pockets, investing money in one-way media, into the hands of the consumers who wants to listen to stories.
The age of interruptive media has taken a backseat, and that is where the magic of brand storytelling begins. A brand can become integrated into our lives if the brand gets to let us be its story-tellers. The story of the brand inspires the customers to think of their own stories. These two stories blend and if the brand can be experienced at the same time with diverse visual touch points, the customer and the brand will have a new story to tell together. Further, this new co-created story is the one that we tell our peers, getting the brand closer to more people than today's advertising budgets allow. This is also where the brand would invest its efforts generating a group of fans.
Storytelling is the adhesive, with which the bunch of cultural ideas can be arranged and linked together in a persuasive fashion. This is important because people do not remember facts; they remember stories. Brands are now garnering attention by speaking directly to our instinctive needs and desires. Brands are, in this sense of the word, the new storytellers. They provide narratives; stories that people use to make sense of the world around them.
Nike, for example, is not in the business of selling footwear, they are in the business of selling the story of personal achievement to millions of people around the globe.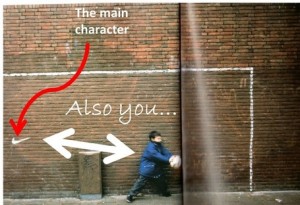 Walt Disney also recognized that, brand loyalty begins with an authentic relationship. Whether we are visiting a Disney theme park or watching a Disney movie, we expect not just to be entertained and amazed, but also to feel special as though the story were meant for us. That is the emotional connection at work. One of the world's highest profile feel good brands is Disney.  If one filters Disney down to its essence, the company's core competency is storytelling.  The company earns billions every year by tapping into our innate captivation with stories. Disney excels at storytelling because in many cases, the story is the product the company is selling.  But even if a brand is not selling a story, the brand will do the best job of selling if it uses great storytelling.
Another example of great storytelling is TOMS Shoes. Founder Blake Mycoskie has created a business model that allows him to provide one pair of shoes to a needy child for every pair of shoes sold. It is what called a "One for One Movement." On the company's website, the brand story is woven throughout the eCommerce experience, encouraging people to share their story. They even have online documentaries about the changes TOMS Shoes and its consumers are making.

They have created a story that consumers not only want to listen to but want to be a part of. To quote its founder: "I realize the importance of having a story today is what separates companies. People don't just wear our shoes they tell our story".TOM shoe's is a great story that is spread in multiple ways, across various media:  traditional media as well as social media, Facebook, Twitter, YouTube, etc. It is a transmedia story that engages customers in multiple ways so that they are inspired not only to buy Toms shoes, but spread the story of Toms shoes. Special events, such as TOMS 'One Day Without Shoes', allow people to become a part of the larger movement.  They become co-authors in the story.
The Brand Story has not been told unless it has created meaning for its audience, meaning that emotionally connects you to them. The brand meaningfully differentiates your organization when you forge emotional connections with customers and employees who are inspired and shaped by a compelling Brand Story. This level of differentiation is even more important today with the explosive growth of social media. Consider the bigger picture the brands are painting: Each and every time the brands engage the consumer, in every form of media in which they are doing it, they are sharing part of their story. When considering media, where it lives, how it lives, and what it says, the brand story needs to be relevant, informative, entertaining, and, of course, on-brand.