Would you consider Facebook the 'default' social community, like Google is considered for search engines? Well, with more than 550 million fans worldwide and more page visits than Google in 2010, the self-proclaimed social utility has made an obvious, high impact on people around the planet. And that might be the only simple and undisputable reason for it to catch the marketer's eyes.
According to the recent India Social Media Report Edition 2 brought by Blogworks and NM Incite, nearly 90% of brands in India are using Facebook for engaging with stakeholders.
For the average brand/marketer, tuned to metrics of 'numbers game',  'driving volumes', using Facebook has  been  a land grab exercise  with gathering more and more fans on the official Facebook fan page being the primary agenda.  There are deeper questions that often don't get asked –
What do people use Facebook for?
Why does a person 'like' a page or be a 'fan'?
By liking a page, does the person entitle the company to communicate with them for marketing? What are the top reasons for people unfollowing?
A couple of recent research studies analyse some of these points and have fairly interesting insights to share. I have covered 2-3 key studies in the post below.
As per a study by ExactTarget, people have several purposes, motivations and perceptions for "Liking" brands on Facebook.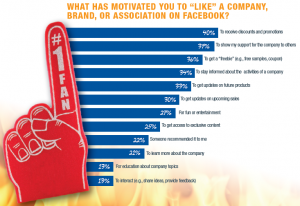 From a marketing point of view, it is clear that discounts and promotions are effective in driving fan growth.  40% of respondents in this study quote it as their motivation for following a brand.
According to a whitepaper released by Context Optional, giveaways have 5 times more impact in garnering interaction from fans than other average engagements. For fan bases of less than 100000 fans, about 35% participate in giveaways.  With subsequent growth in the base, the fan participation might drop down to as low as 5%. But the 'interaction' on the giveaway page as well as the wall grows up to about 5 times in most cases.
Now the idea of real fans gets blurred as it comprises different tribes – those who want to associate for self expression, for entertainment or staying informed about the brand.
Another interesting insight that the study offers is in how social media usage varies as per certain demographic, geographic and psychographic factors. The most noticeable being a demographic, age. A typical teenager might need Facebook to have ongoing conversations on a day-to-day basis, as a mean for communicating status, picture and movement updates with friends and family he meets offline every day. Again, a 30+ man usually keeps checking on old college friends and distant relatives across different locations using Facebook.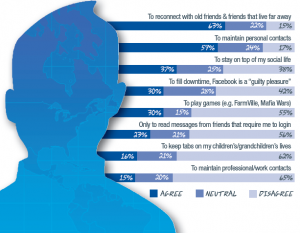 Its obvious from these findings that Facebook is used for more personal engagement than professional pursuits. In a space where people want to have their most personal conversations, a brand can often unintentionally disrupt the flow with their intervention if it overcommunicates or is too overtly promotional in nature.
A recent study in US shares interesting insights on why do people stop following companies/brands online.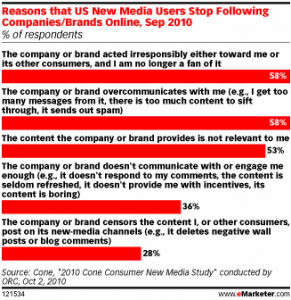 Reasons such as sending too many messages or pushing out irrelevant content are symptomatic of one simple thing – too much focus on the sales, marketing and managing reputation for the brand and less focus on the consumers.
As social media has become more mainstream, focus has shifted from engagement to sales.  These studies however show the need for balance that marketers need to bring to prevent users from tuning out.
Would love to hear your thoughts.